We are just 15 minutes by car from the Ken Jones domestic airport, 12 miles from Port Antonio, an hour and a half from Kingston, two hours from Ocho Rios and four hours from Montego Bay.
We are 2 miles from the main road.
With prior notice, we will organise transfers to and from the village throughout the island.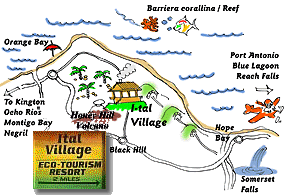 © 2005 de Smile Aringe Ltd.
site developed and maintained by: